Multipurpose interface board for the Raspberry Pi.
The Multiface is a multi-purpose IO (Input/Output) expansion interface for the Raspberry Pi. Bringing together a selection of interfacing components on to a single circuit board the Miltiface makes an ideal experimentation and prototyping system.
12x Buffered I/O with LED indicators
3x Push button switches
7x Open Collector darlington drivers
Motor Controller
2-Channel digital to analogue convertor
2-Channel analogue to digital convertor
ATMEGA 328 Microcontroller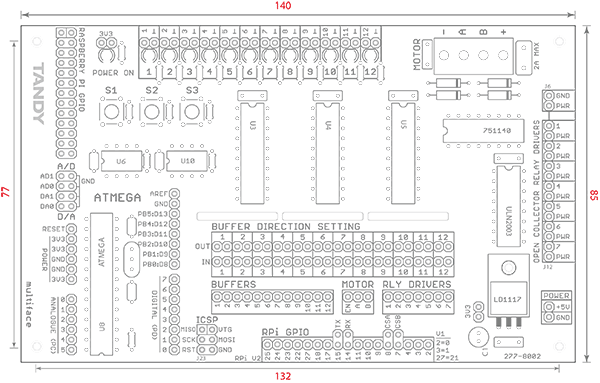 Dimensions shown in mm.
Kit Contents
Multiface Printed Circuit Board
Electronic Components (to be soldered to PCB)
80mm Ribbon Cable
12x 100mm Female - Female Jumper Wires.
15x Shunt jumpers

Assembly Manual